"Falcons for Sight" Takes Flight at Albany High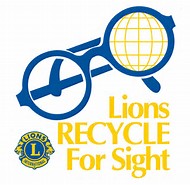 Hang on for a minute...we're trying to find some more stories you might like.
I've worn eyeglasses since second grade. Seeing clearly is something I take for granted.  I shouldn't.  According to World Health Organization Statistics, more than 150 million people on this planet don't have access to eye care and usable eyeglasses.
But I'm getting ahead of myself…
This summer, my grandfather passed away.  My family and I began sorting through his belongings.  Time and time again, we stumbled upon old eyeglasses.  After finding the 11th pair, I wondered what to do with them.  It seemed like a waste to throw them out. I started doing a little research and soon discovered the Lions Eyeglass Recycling project.  The mission was simple: recycle old glasses to give someone the gift of sight.
The concept fascinated me.  I never imagined that unused glasses collecting dust in drawers  could be of any use to anyone.  I was wrong.  Lions Club International, the world's largest service club organization in 205 countries established —decades ago — regional Eyeglass Recycling Centers.  Trained volunteers clean, sort by prescription strength, and carefully box up glasses to ship overseas.  The crates eventually meet up with eye care professionals in developing countries who provide, free of charge, eye exams.  The result: matching a person with a pair of recycled eyeglasses. To think that it would only be a matter of time before my grandfather's eleven glasses would be cleaned and donated to eleven needy children and adults thousands of miles away.  A new twist on recycling.  How cool is that?
Sight is an important human sense. Millions of people around the world benefit from having access to prescription glasses. I believe when people can see clearly, they will have improved educational and employment opportunities.  And that, in turn, provides for a better quality of life.
I'm launching "Falcons for Sight" here at Albany High and hope that students, teachers, and administrators will join together to collect unused eyeglasses  and help bring sight to many more people around the world.
Collection boxes will be in the Main Office and Nurses' Offices until June.
Thank you for helping "Falcons for Sight" take off at Albany High!