What To Watch: The Office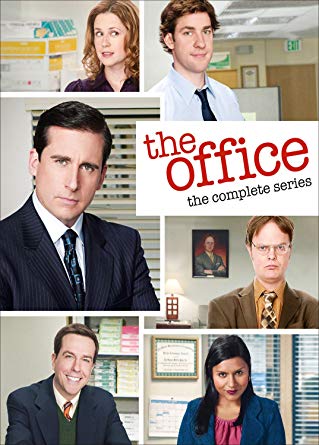 As temperatures begin to drop, people tend to turn to their TVs a whole lot more and end up binge-watching Netflix. Anyone who adopts these habits knows that you end up running out of shows to watch quickly.
If you're in need of new show to watch you have to add The Office to your list. It's a classic- a show with so many hilarious episodes that you're bound to find a friend or classmate who appreciates the series as much as you will.
The Office is a show on Netflix that has 9 seasons full of hilarious inside jokes and great humor. This article refers to the U.S. version of the show- the original version having aired in England on the BBC Two- yet according to the Twitter community and many other media outlets- the US version is superior to the original series.
This show takes place in the office of the Dunder Mifflin paper company, at the Scranton Branch in Pennsylvania. Don't worry the show is not about paper. The characters know that a documentary is being made about their branch, and they can't seem to figure out why a paper company would be of any interest to anyone.
The reason this show is so intriguing, and considered by many to be a classic, is it's intricate interactions between people. The people, or characters, working in this office create such an interesting dynamic because they're written with real, human consideration.
We have Pam, the receptionist and Jim, the paper salesman and their developing romance. This couple will make you want to yell at your TV because it takes them a while to actually get together but it's always so obvious that they're a perfect match, and on top of their romantic relationship, they're best friends.
Another iconic character in this show is Michael Scott, the manager of the branch, but don't be fooled, he doesn't act anything like a manager. One day he could be running a marathon to find a cure for rabies, then the next day he could be heading down to New York City to attend a corporate meeting. However, Michael would not be the manager he is without Dwight, his "assistant manager".
Every show has that one character that you love to hate and Dwight is that character. He is so invested in his job, and aiding Michael in any way possible that he will do any ridiculous thing asked of him. Dwight is also a rule follower, so when someone breaks them, his reaction is hilarious. In addition, he has an odd love for beet farming and upholding old-fashioned family traditions.
It's not surprising that someone would intentionally mess with Dwight just because they wanted to witness a classic Dwight breakdown. This is where Jim comes in, he constantly pranks Dwight in the most random ways possible, and this results in an intriguing love-hate relationship between them. Their dynamic is one of the best on television, and it creates the perfect mix between comic relief and office drama. 
Everyone should give The Office a chance, although this show caters to those who love comedies and shows like Parks and Recreation. The bond that the characters share is indescribable and seeing their relationships grow throughout the seasons of the show is mesmerizing. With rumors of NBC planning on removing it from Netflix in 2020, get to binge-watching if you haven't seen it already, you won't regret it!