Artist Spotlight: SZA 'SOS' Album Review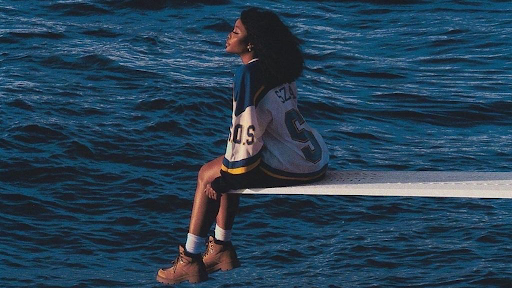 'SOS' is American singer-songwriter SZA's highly-anticipated sophomore album, and her newest release serving as the follow up to 2017's Ctrl.
SZA, born Solana Imani Rowe, was born in St. Louis, Missouri and grew up in Maplewood, New Jersey in a Muslim family. Rowe describes her childhood as lonesome. She was a gymnast and dancer who was bullied at school, often feeling different. Growing up, Rowe enjoyed a variety of musical genres, spanning from jazz to indie rock, and had a rapper brother who would ask her to sing the choruses for his mixtapes. Although a career in the music industry was not something she expected to do, she began creating her own music while working as a salesperson at Sephora and a club bartender. On Soundcloud, Rowe released songs like "Aftermath", which garnered fans. Later, Rowe released her debut EP See.SZA.Run in 2012.
SZA met Terrence "Punch" Henderson, the CEO of Top Dawg Entertainment, in 2011. Punch first listened to some of SZA's songs and was moved by her music. SZA released a second EP in 2013, titled 'S'. She joined Top Dawg Entertainment that same year, becoming the label's first female artist. In 2014, she released the EP 'Z'.
SZA's remarkable debut album, Ctrl, released in June of 2017 and was met with great acclaim. SZA pushes the envelope by discarding conventional sounds and song structures while singing the most intimate words in a delicate voice over earthy, grounded beats. Following said non-traditional formula, though, was the perfect track for SZA's career, as Ctrl was certified triple platinum just last August, demonstrating both its ongoing relevance and the fervent desire of fans for a follow up.
These past few years, SZA has been more than occupied having released 16 singles & collabs, including the Oscar-nominated Black Panther track "All the Stars," with Kendrick Lamar, as well as a handful of wildly atmospheric singles like "Good Days" and "Shirt", and a record-shattering vibrant track 'Kiss Me More,' with Doja Cat.
The album opens with a SOS distress call, as well as a sample of the Gabriel Hardeman Delegation's 1976 gospel exhilaration "Until I Found the Lord (My Soul Couldn't Rest)," leading her into a strong opus demonstrating her self-reliance.
On the track 'SOS', she affirms, "I just want what's mine."
Here lies the overarching theme of the album. SZA is reeling from the anger, despisal, and betrayal that she feels from her once lover. She feels jealous of him and his ability to move on in spite of everything she gave and did for him. Why are you able to move on? Why can't I get over you after all that you did to me? Is it too late for us? What about me? All questions that SZA ponders over the course of this record.
The cover of SOS depicts SZA perched on a diving board surrounded by the deep blue sea, looking contemplatively at the sky. She drew inspiration from a 1997 photograph of Princess Diana on Muhammad Al Fayed's yacht taken just one week before her death. SZA has stated that she wanted to pay homage to the "isolation" it conveyed.
In my opinion, this album is the most realistic healing process personified. It's messy, inconsistent, & non-linear – and I feel SZA encapsulates heartache so effortlessly on this record. While on the first half of this record we see her avoiding her pain and lashing out, with tracks like 'Kill Bill' and 'Blind'; on the second side we see her acknowledging her pain and sitting with it, with tracks like 'Gone Girl', 'Open Arms', & 'Forgiveless.'
I think what makes this album as cohesive as it does is its unorthodox nature. It's down to earth, yet ethereal in the same breath. SZA masters the art of the inner monologue by transforming her deepest personal feelings into gilded songs that somehow feel close, real, and almost otherworldly, while seamlessly interweaving R&B, rock, soul, & rap on this project.
SOS debuted at number one on the US Billboard 200 chart, with an equivalent of 318,000 album units sold. In its first week, the album earned 404.58 million on-demand official streams, breaking records for the biggest streaming week ever for an R&B album, further becoming the second-largest streaming week for an album by a female artist.
Within days, the album was certified gold by the Recording Industry Association of America (RIAA). Elsewhere, SOS entered within the top 5 of 10 countries: debuting atop charts in Canada, the Netherlands & New Zealand.
This album truly cements SZA as a name to watch out for, and overall, I give this album a 9/10 and recommend it for those who simply want to feel something.