Argentina VS France – 2022 World Cup Final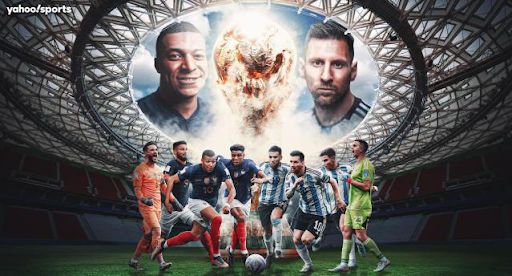 On December 18, 2022, the day that millions of people around the globe have been waiting for finally arrived. It was the Finals of the 2022 Qatar World Cup. Lusail Stadium was packed with international fans all dressed in different shades of blue supporting their team. Within 21 minutes of the game, #11 Di María fell due to contact with #11 Dembélé's foot, and a penalty is given to Argentina. Messi took the penalty shot, Lloris went the opposite direction and Messi scored the first goal.
In 35 minutes, #20 Mac Allister passed to Di María and he scored a phenomenal goal. The score is now 2-nil. In 78 minutes, #12 Mauni went down due to contact with #19 Otamendi and a penalty was given to France. #10 Mbappé took the penalty and he scored. A minute later, Mbappé scored once more, which set the score to 2-2, meaning the game would move onto extra-time.
At 108 minutes, #10 Martínez passed the ball to Messi who passed it to #24 Fernández and then back to Martinez who shot but Lloris got contact. Lloris didn't catch it so Messi kicks it in, the ball went past the line and made it a goal. Argentina led by 1 point, the score was 3-2. Around 115 minutes, France got a penalty due to a handball, Mbappé scored, he made it, and it's a hat trick. The score was then 3-3, and the teams moved onto the penalty shoot-out. Argentina made every single one of their shots and France missed two out of four of theirs. Which means Argentina has won the 2022 Qatar FIFA World Cup Finals and they are the Champions aka Campeones del Mundo. Argentina took the Cup home and Messi finally won the World Cup.
The finals were a very riveting game and up until the last moments, no one could guess how the game would end. The closing and awards ceremony was definitely one to watch. The Argentine players have been welcomed home with excitement and honor. Many players including Ángel Di María and Emiliano Martínez have gotten the World Cup trophy tattooed onto their legs. And with that, the 2022 World Cup ends but the celebrations have just begun!