World Cup Qatar 2022: US vs Iran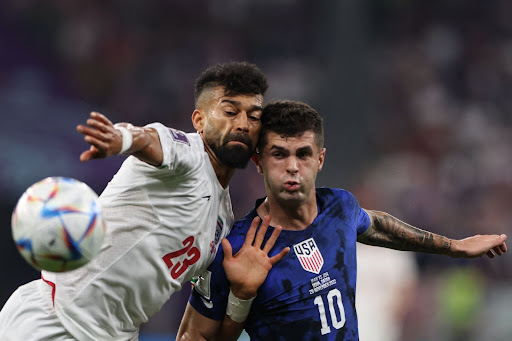 On Tuesday, November 29, 2022, USA and Iran fans gathered at Al Thumama Stadium to watch the third and final match in the group stage for both nations. Up until that point, the USA had not had a win in the 2022 World Cup, while Iran came in with one loss and one win. Iran has the reputation of being one of the best teams in Asia, while the United States is the current CONCACAF(The Confederation of North, Central America and Caribbean Association Football) Gold Cup champions. On the same day, England was playing Wales at Ahmad bin Ali Stadium.
The first half of the USA vs Iran game started off with USA taking constant shots at the goal. Just in 10 minutes, USA's #10, Pulisic attempted a header that was assisted by #21 Weah and #6 Musah but that attempt was unsuccessful. At 27 minutes, Weah attempted a goal but it was caught by the Iranian goalkeeper, Beiranvand. Finally, at 37 minutes, #2 Dest passed the ball to Pulisic with a header and Pulisic scored from the goal area. As he scored the goal, Pulisic crashed into the Beiranvand where his pelvic met the goalkeeper's knee. Pulisic was in a lot of pain, so he had to sit out for the rest of the game but he continued to cheer on his team from the medical room. According to sources and from Fox sports commentators, Pulisic's blood pressure kept fluctuating while he was watching the game on his phone. It was later found that his injury was a pelvic contusion.
Later in the game, during the extra time in the first half, at 51 minutes, Weah scored a goal but it was deemed to be offside. Iran continued to play very proactively in the second half but none of their attempts were successful. At 92 minutes, Iran was given a free kick and #8 Pouraliganji attempted a goal but it was too wide. At 97 minutes, Iran tried again but they just couldn't find the equalizer. After 90 minutes, there was an added 9+ minutes, and it was a very riveting and nerve-wracking last nine minutes. Iran was yearning for the equalizer while USA was trying to keep the score one-nil. And the Irania players protested for penalties on two separate occasions in the last couple minutes. The game ended 1-0, meaning the US had advanced to round 16 and Iran was going home.