Qatar World Cup 2022 Opening Game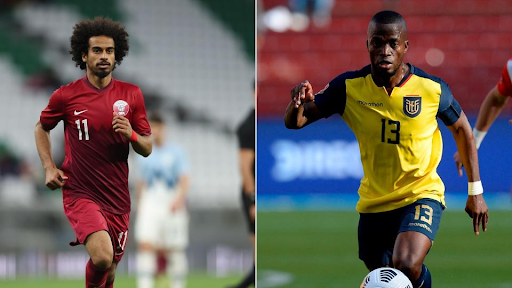 The 2022 World Cup started off with an opening match with Qatar vs. Ecuador. The first match of the competition took place in Al Bayt stadium, Sunday November 23, 2022. The game started at 11 am. In the first 2 minutes and 39 seconds, Ecuador's captain, #13, Enner Valencia scored the first goal of not just the game, but the entire competition. The fans went wild in celebration. Unfortunately, at 4 minutes and 44 seconds, to the dismay of the fans and team, the goal was deemed to be offside. Ecuador recovered that goal at 15:49 when Valencia scored a goal from a penalty kick. Just 15 minutes later, Valencia once again scored at 30:42 with a header, leaving the game to be 0-2 just in the first half.
Valencia was substituted out for #5, Jose Cifuentes at around 76 minutes. At 80 minutes, Cifuentes passed to #19, Gonzalo Plata who attempted to take a shot but instead ran into Al Sheeb, the Qatari goalkeeper. Then, at  86 minutes, Qatar's player, #9, Mohammed Muntari attempted to score a goal for Qatar but he shoots too high and it landed on the net. The night ended with a score of 0-2, leaving Ecuador with a win. In 92 years, Qatar became the first host nation to lose their opening match. As of now, the standings of Group A is ranked from Netherlands being on top to Ecuador, Senegal, and finally Qatar.