Editorial: Why the NWEA Exam is Broken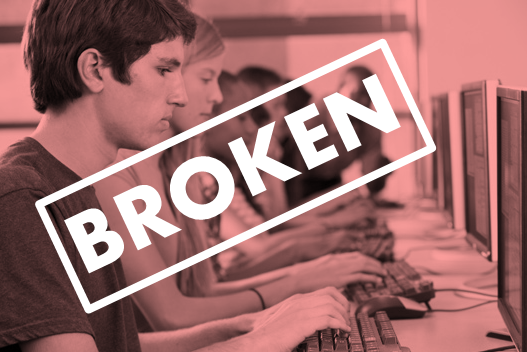 Hang on for a minute...we're trying to find some more stories you might like.
*The views and opinions expressed in the following piece are those of the author alone and do not necessarily reflect the views and opinions of The Nest or Albany High School.*
The Seattle Times has called it "useless". Huffington Post has called it an "embarrassing mistake". And, yet, we still take the NWEA MAP test.
The NWEA (Northwest Evaluation Association) exam is taken by students throughout middle and high school twice a year in both math and English, to check in on student progress. While this sounds great in theory, it is a actually a broken and ineffective system which, more than just failing to accomplish anything, is actively detrimental to the well-being of our schools.
First and foremost, our grades are completely artificial. Many teachers, who are encouraged to show growth, offer extra credit to students who display improvement at the end of the year, so those students intentionally bomb the first administration of the test for better grades. This fudged data blatantly undermines the system.
John Oliver once did an excellent monologue on why standardized testing is bad, and one point really stood out to me: occasionally the test is incorrect, but nobody knows, because the questions are not released.  We don't find out what we got right and wrong, and even the administrators get confused sometimes. I actually had a personal experience with this a few years ago, when I found an alarming typo in an English question that impeded my ability to answer it. I called a proctor over, but he merely told me to "click through it". Thousands of kids are probably told the same, and many more don't even notice the problem, leading to the same erroneous problem being recycled over and over again.
Another obvious issue surrounding NWEA is the sheer time it takes to complete the tests in two separate administrations for each subject. At four days out of 180, over 2% of our English and math classes are occupied by this farce. As a senior, I will have spent over a month of my high school career taking the NWEA test in math and English. It's simply not worth it to disrupt classroom schedules (something that also forces computer-related courses out of their spaces for weeks at a time) for a test that fails to measure anything accurately.
Multiple studies have also shown that students perform better on written tests than computerized tests. The best options are probably either to replace the NWEA with a paper-and-pencil evaluation or to just get rid of it all together, but if those posssibilites are unfeasible, the school district should at the very least ban the offering of extra credit. We have a serious testing problem we need to address, and we should do so immediately.