Boys' Soccer Season Comes to a Startling End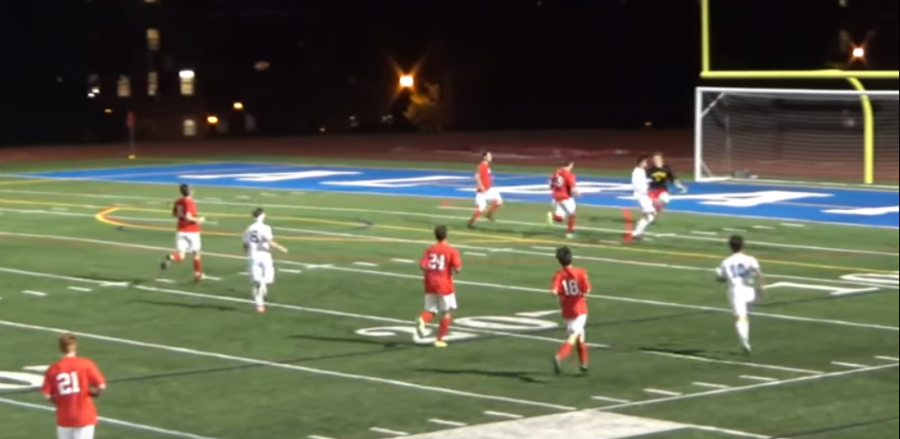 Albany High's electrifying boys' varsity soccer team saw its sectionals hopes dashed Saturday night in front of a packed Falcon's Nest. The boys played a hard-fought and determined game, but were defeated at the hands of the Niskayuna Silver Warriors for the second year in a row in the sectionals quarterfinals.
The Falcons battled the Warriors to a 0-0 draw at halftime, but Niskayuna quickly struck after the half on a nice goal to go up 1-0. Rain began to pour on the turf, making the surface slippery and leading to sloppy play. However, Niskayuna soon added another goal a few minutes later on a penalty kick that just skipped over the outstretched arm of Albany goalkeeper Will Bulmer. The Warriors held a commanding 2-0 lead with 22 minutes left in the contest, but the Falcons weren't done yet.
With around 20 minutes left in the game, senior striker Marcello Fazio converted on a penalty kick to bring the Falcons back to within one goal. The Nest roared with energy as the student section shouted encouragement and chanted for the boys. Five minutes later, Niskayuna was called for another penalty inside the goal box, and senior Kevin Kampula capitalized on the penalty shot to knot the score at 2-2, sending both the student and parent sections of The Nest into a frenzy. The score would remain 2-2 until the end of regulation.
In the first overtime period, both sides failed to convert on key chances, and the game moved to a second overtime. It was a hard-fought and stressful period, but time slowly bled into the final minute. With 10 seconds remaining, the Warriors sent a cross into the box where a Niskayuna striker sent a beautiful bicycle kick into the top left corner, stunning the Falcons and their fans as they captured the win. Many players, parents, and students became emotional after the goal as the Falcons were defeated by the Silver Warriors in the sectionals quarterfinals for the second straight year. However, the team received a standing ovation as they jogged towards The Nest to acknowledge and thank the crowd.
Despite the tough loss, the Falcons outperformed expectations and enjoyed a magical season. The team will look to rebound next year, led by players such as Mikey Gallagher and Harrison Leon as seniors Bulmer, Fazio, Kampula, Ferit Brace, and Paul Criscione will graduate in June. Thank you, Falcons, for an outstanding season.