AHS Boy's Soccer Program Enjoying Early-Season Success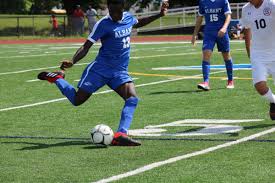 Last fall, Albany High's boy's soccer program took a big leap forward with a run into the Section Two playoffs. Despite the season-ending and heartbreaking loss to Niskayuna in those playoffs, the Falcons remained optimistic and hopeful about what they had built over the course of the season, as an up-and-coming young core was formed.
Despite the departure of important seniors Robert Quaye, Matt Flynn, and Nick Joslin, the Falcons are enormously talented and extremely fun to watch in this 2018 season.
The squad started off the season with dominating wins over Columbia and Schenectady to move to 2-0 on the season. Next came a thrilling 4-3 defeat of Christian Brother's Academy on their home turf. That win made the city of Albany take notice of this Falcon squad, as more and more fans have filled the stands since the victory.
The Falcons hit a minor bump with a 2-1 defeat versus Bethlehem, but quickly got back on track with a victory over Saratoga. Last week, a match against Niskayuna was canceled due to rain, leaving the Falcons with an impressive 5-1-0 record after Monday night's win over Shen. According to MaxPreps, the Falcons are currently ranked 17th in New York State.
So what's different about this team from years before? For starters, this squad clearly has strong and vocal leaders. Captains and seniors Marcello Fazio and Will Bulmer have been instrumental to the team's success and have served as examples for younger players such as Mikey Gallagher and Harrison Leon. Bulmer has bravely battled through a quad injury to his right leg, a persisting isssue. Despite the injury, he has already recorded two clean sheets and has made crucial saves in two overtime victories.
Forward Marcello Fazio has been a spark plug for the Falcon's offensive attack, netting crucial goals versus CBA as well as Saratoga and recording a hat trick early in the year. Resulting from their strong leadership have been wins, and in turn, an immense passion has exuded from the pitch and the stands during Falcons games, an element that has motivated and inspired the team to keep rolling along and continue their winning ways.
The Falcons next challenge is Ballston Spa at home on Thursday September 20th! Make sure that you are there to support as the boys make another sectionals run! Go Falcons!