AHS Juniors Enjoy End-Of-Year Celebration at Prom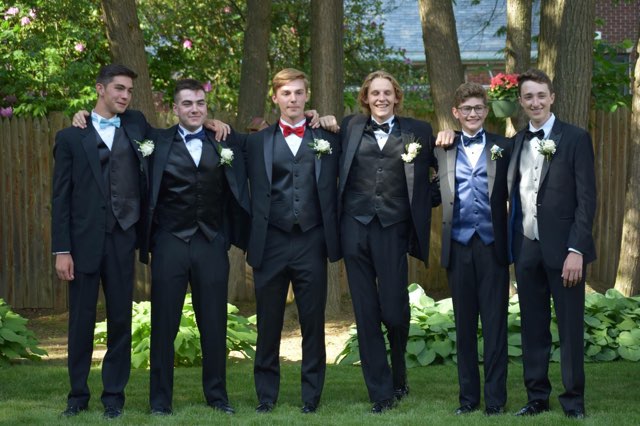 With AP and SAT season in the rearview mirror (for now), Albany High's junior class blew off some steam with an exciting and marvelous party at Junior Prom on Friday. The event was a fitting and pleasing end to what has been a taxing, stressful and challenging school year for many students.
The festivities got started long before the scheduled 5:45 group pictures at the beautiful downtown plaza. The boys and girls of the junior class spent hours preparing their hair, applying makeup, and getting dressed up in their gorgeous dresses and gowns and lavish tuxedos.
Many students gathered for group pictures at their homes along with their friends and dates as parents proudly snapped hundreds of pictures. Next, more group pictures were held at the beautiful downtown plaza and the steps to the state museum in a stunning evening sunlight. Many teachers such as Ms. Donohue, Mrs. Brown, Mrs. Erickson, and Mr. Hetzel cheerfully snapped photos of their students as well as posed for numerous pictures with them. A group picture was organized by junior class adviser Mr. Vacanti on the spacious steps of the state museum.
After group pictures, the party-goers flocked to the historic State Room at 100 State Street for the main event. It was a lavish and gorgeous venue, featuring an open (non-alcoholic) bar as well as a DJ and dance floor. The night's dinner menu was also magnificent, with cranberry sage-stuffed chicken and tortellini being served as well as a salad, pasta, and ice cream sundaes for dessert. The juniors danced the night away until about 10 o'clock, at which point prom king and queen were announced. Sam Bromirski took home prom king, while "Hairspray!" star Annabelle Duffy won queen.
The dancing and partying continued for another hour until Ed Sheeran's hit song "Perfect" signaled the end of an exhilarating and eventful night. Albany High's juniors now look forward to the official end of the academic year next Monday before Regents exams begin.