AHS Theatre Ensemble Triumphs Again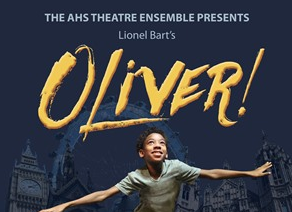 Hang on for a minute...we're trying to find some more stories you might like.
April 6, 2017. Opening night of the new school play, Oliver!, a modern musical take on Charles Dickens' quintessential novel Oliver Twist, the first time in a decade the play was being performed at Albany High. A hush filled the crowd, which filled about three-quarters of the seats, as the lights dimmed and the executive producer, Mr. Ward Dales, stepped out. He first acknowledged the mayor, who was present, then issued a highly political proclamation that "art is how we stand up to injustice" and that we should do what is right, an allusion to the human trafficking undertones of the play.
The play began with a chilling 1984-esque scene of subservience where Oliver (played by sixth-grader Hassan Laing) and other orphans are forced to obey while living on nothing but gruel. After Oliver's trademarked request ("please, sir, may I have some more?"), Francis Criscione stole the stage as the evil Mr. Bumble, leading in songs such as Oliver!, I Shall Scream!, and Boy for Sale, with great humorous and visual effect. Oliver is soon sold to a funeral-making family, whereupon he gets into an altercation with a higher-ranking apprentice, casting him onto the street and into the clutches of a devious plotter named Fagin (Raphael Cohen) and his gang of pickpockets, including a woman named Nancy (Williemae Fiddemon) and a kid named the Artful Dodger (Makaiah Massas). This was great fodder for a multitude of songs, until Oliver got caught stealing and taken into a much nicer home than ever before. Naturally, things didn't turn out too well, and for the rest of the play Oliver was thrust into all kinds of turmoil.
What were the best parts? The humor kept the story light: one drawn out death of an old maid, Cohen's interactions with the orchestra, and Criscione's performance as Mr. Bumble all were hilarious. The dance moves were excellently choreographed, the band in the pit kept along rather well and the story was told poignantly. Laing did well as Oliver, but the immediate supporting cast shone the most: high school students Fiddemon, Cohen, Criscione, and Ackazemas Myers (as Bill Sykes) dominated in their roles, into which they fit seamlessly, and sung superbly. There were times when the play was indistinguishable from Broadway.
There were downsides too, however. The play seemed almost too contemporary, with cell phone use onstage and dabbing. For a high school play, the plot got rather explicit at times (several people commented to me about this), with loads of innuendo and scantily clad under-age girls. What was heralded as "improved projection technology" was a flop, and the singing was sometimes drowned out by the orchestra. The partisan spiel at the start was also a bit exclusive of other groups.
Especially considering all the rumors that the play wasn't ready beforehand, this must be considered a tremendous success, however. One who went in with a sense of journalistic apprehension (such as myself) came out with a desire to get upstage and sing too. The aesthetics were stunning, the acoustics were great, and the story ran well without any glitches.
"I thought they did an amazing job," said Mr. Gregory Marsh, the Albany High alumnus who helped co-direct the play. "It's amazing how a play we did ten years ago is equally relevant today." Willaemae Fiddemon (Nancy) concurred. "I felt like it was amazing," she repeated. "there was a real twist on Oliver Twist, and it's all thanks to the theatre ensemble. It allows us to be ourselves… my life has really changed, working with all these people."
Raphael Cohen (Fagin) also attributed his success to the cast. "We worked very, very hard," he said. "What we do is not the result of fancy sets, or lighting, or microphones, or fancy equipment… it comes from what we have here as a community; we've become very well knit… it's that shared energy which gives the show the energy it has." Continuing this selfless trend, Francis Criscione (Mr. Bumble) remarked, "the band did a great job, tech did amazing… tonight was our best performance yet."
"For anybody considering doing theatre, it's definitely well worth it."