Preparing for the PSAT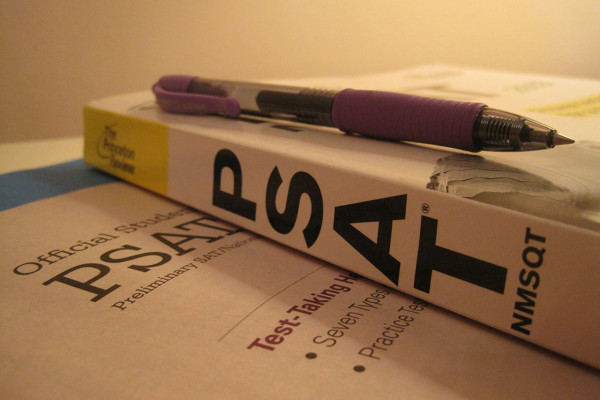 Hang on for a minute...we're trying to find some more stories you might like.
Calling all tenth and eleventh graders! Now that the school year has begun, it's time to start preparing for the PSAT, or preliminary SAT. Let's fill you in on the details.
The 2018 PSAT will be held for more than three million students across the country on Wednesday, October tenth, with alternate test days on the thirteenth and twenty-fourth. There should be representatives visiting your classroom in late September and early October to fill you in on this some more, but it's never too early to start thinking ahead and to know what to expect.
The PSAT is similar to the SAT in many ways, and is often thought to be good preparation for the rigorous College Board test taken in your junior year. However, there are some differences. Students testing in their junior year will qualify for the National Merit Scholarship, the exam is shorter and lacks an essay portion, it's scored out of 1520 instead of 1600, and the PSAT cannot be used for college admissions. While in ninth or tenth grade this is little more than practice (and kudos to you for starting so early!) all incoming juniors should give serious thought to sitting through this, not only because of the chance to win $2500 from NMS, but because of the invaluable insights this can provide for the actual SAT. But be careful: you can only take it once a year.
If you wish to take this examination, you will need to make out $16 to the school before the deadline, which should be announced to you soon. You will sit the test in the large gym with the rest of your classmates, and should ideally be prepared with multiple number two pencils, erasers, an acceptable calculator (this will be the TI-84 or TI-NSpire for most of you), a photo ID, and a functioning watch.
Still interested? Let's launch into the specifics. There are four parts to the PSAT. First you will answer 47 multiple-choice questions based on reading passages in 60 minutes, analyzing and thinking critically; then correct 44 sentences for grammar and spelling in 35 minutes, also in the form of passages; then a 25-minute no-calculator and 45-minute calculator math section, together totalling 40 multiple choice questions and 8 grid-in responses. The whole format of this mirrors the SAT very closely, if perhaps a little less demanding. If you want to score well, you'll need to crunch, drill, and study profusely.
And "scoring well", obviously, means becoming a National Merit Semifinalist. We're a little cursed because New York State is one of the most difficult states to do that in- we need to reach a National Selection Index score of 221 to do so (approximately a 1480, though a little more goes into it than that, and it may be greater or less than that number), whereas the average of all qualifying scores nationwide is 218. Colleges look very favorably on anyone reaching Semifinalist status, and it can be a huge boost on your resume.
As someone who scored a 1460/1520, allow me to impart a few words of wisdom. Know what you're bad in, and repeat practice problems in that area. Practice makes perfect. Buy review books (I personally used Barron's, but any of the big names will do), and parallel review for the SAT doesn't hurt at all. Use sites like reddit.com/r/psat and College Confidential to find other people in your situation. And, I know it's useless to say, but don't stress out too much. The two months of waiting for results may be agonizing, but whatever comes out in December does not define you. You will emerge stronger for the SAT itself and be better off for it.
It's up to you, of course, but it would be a very wise decision to sign up as soon as possible and study in the meantime. This is a very important test, and good luck!