Chess Team Off To A Great Start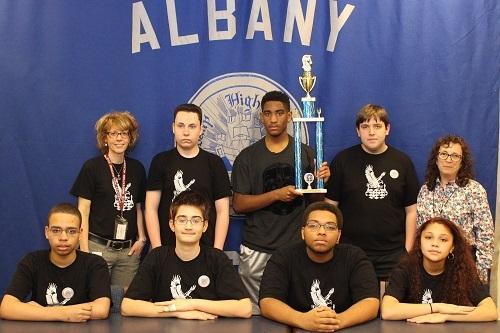 The Albany High School Chess Club has already participated in two county-wide tournaments, and is on track to win the Capital Region's Make the Right Move championship this year. Albany's main competitors in this battle of intellect, East Greenbush and Bethlehem, are within metaphorical throwing distance of AHS, but the club is not concerned. "We're doing really well this year," said Dr. Liz Gialanella, school psychologist and head of the team. "We really have a chance to win this."
Last year's results placed Albany High at third out of over thirty teams, with 160 points total. It lost to Bethlehem by a razor-thin 4.5 points and to East Greenbush by an even more nail-biting half a point. However, so far this year, Albany placed second in the first tournament and won the second tournament, with seven or more tournaments left. Bethlehem leads with 26 points to our 24, but we narrowed the margin after the latest victory. East Greenbush now trails with a mere 18.5 points, and a dark horse has entered the metaphorical race as well- Stonegate Chess Club with 21 points.
Last year Albany high was recognized in the 49th Annual New York Scholastic Championships as the third best high school reserve team in the state at a March tournament in Saratoga. This victory has made all of its members hungry for more, and ready for first place; everyone's preparing already for the next tournament this upcoming sping. Pictured are the members of the winning team with Acting Principal Dale Getto.
Albany High's chess team has shown their renewed dedication to winning the championship this year in many ways. The first 10 minutes of club are now for chess-related announcements by Dr. Gialanella and the President, Kassi McTague. Chess homework is now employed, with prizes to those who complete it. Our last tournament saw eleven people show up, two out of five possible section victories, a second place, and a third place. Finally, our chess club now has more members than ever before, with unprecedented amounts of people showing up to learn to play or improve their already-established skills.
Chess club is a wonderful opportunity to broaden you mind, meet fellow intellectuals, talk politics and strategy, and bring home the trophies. To help us win the next tournament, we need your help, no matter your skill level. We meet Thursdays in the Discovery/Leadership cafeteria from 3:00 to 5:00 p.m.
For more information, please contact Dr. Gialanella by going to the Innovation office or emailing [email protected]