A Legend and Pioneer: Remembering Adam Yauch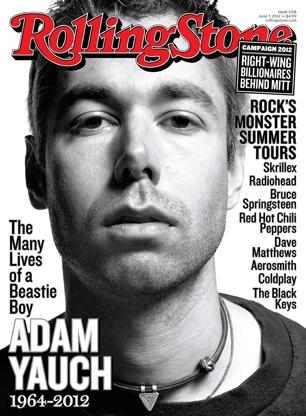 Photo Credit: Marina Chavez
Matt Shore, News Editor
June 15, 2012
Filed under Archive
MCA, the Brooklyn Renaissance Man aka Adam Yauch, was not just a third of the iconic, New York based rap group "Beastie Boys," he was something much more, a doorman. He opened doors to not only the once all too serious rap-game but also to the post-punk, alternative scene that abruptly emerged out of nowhere in the early 90's.
Adam Yauch was one of the many faces of a generation of late-century rock icons and hip-hop chart toppers and innovators; A bold third of a trio that questioned hip hop's norms while seeking the variance.
Adam Yauch, founding member of the Beastie Boys passed away at the age of 47 on May 4, 2012. Adam's life concluded as a result of a three-year battle with throat cancer. Following the news of Adam's passing, various artists from all walks of life expressed tribute and respect to one of rap's most famous artists.
Born on August 5, 1964 as an only child to upper middle class Jewish parents in Brooklyn, New York, Adam spent his entire young life in the borough of Brooklyn attending Edward R. Murrow High School during his late teenage years. While there he was largely influenced by punk music who then later taught himself how to play bass guitar.
Yauch later joined experimental hardcore punk band The Young Aborigines. Through mutual friends and a shared interest in punk-rock, Adam Yauch co-founded the Beastie Boys as a punk band along with founding members: Michael "Mike D" Diamond, John Berry and Kate Schellenbach. In their early days the band would support Bad Brains, Dead Kennedy's and The Misfits at venues such as CBGB in NYC.
After a few moderately received punk records (Polly Wog Stew,) Beastie Boys created a contrast to their main punk influence. This contrast was known as "Cookie Puss," the band's first hip-hop record based on a prank call that Adam and his fellow members made to Carvel Ice Cream.
The single became a hit throughout New York's underground clubs. The Beastie Boys later signed to Def Jam Records and became a rap trio consisting of Adam Yauch (MCA,) Michael Diamond (Mike D) and Adam Horovitz (Ad-Rock.) Their debut album Licensed to Ill was the first Hip Hop LP to top the Billboard album chart.
Almost overnight, Adam and his band mates became the first white rap group to enter the consciousness of the American public. The Beastie Boys opened up a genre of music to different races that before was only previously explored and experimented in the African American community.
The success of the Beastie Boys can largely be contributed their expansion of hip hop to the masses. Prior to the Beastie Boys, a successful white rap trio was never dreamt of. Their albums Licensed to Ill, Hello Nasty, Check Your Head, Ill Communication, To the 5 Boroughs, and the Hot Sauce Committee were all found on the top of the Billboard charts, giving the band a large list of respected music awards including the Grammy Awards.
Of all of the things Yauch will be remembered for, one will be the human rights activist spirit inside of him. Yauch was a practicing Buddist who later became an important voice in the Tibetan independence movement creating the Milarepa Fund, a non-profit organization formed to fight for Tibetan independence. Adam was also strong supporter of feminism and LGBT rights, later regretting and apologizing for lyrics he found offensive.
At the 1998 MTV VMA Awards, Yauch addressed the problems and false stereotypes that Muslims faced on daily basis as a result of terrorism from a few individuals. "That's another thing that America really needs to think about is our racism, racism that comes from the United States towards the Muslim people and towards Arabic people and that's something that has to stop and the United States has to start respecting people from the Middle East in order to find a solution to the problems that have been building up over many years, so I thank everyone for your patience, and letting me speak my mind." He also stated that it was wrong for the United States to bomb and kill innocent lives and families in the Middle East. Many will remember Yauch for his down-to-earth, humble personality but, also for his love of humanity.
"The Beasties opened hip-hop music up to the suburbs," said Rick Rubin, Def Jam executive who discovered them alongside Russell Simmons. Eminem stated: "I think it's obvious to anyone how big of an influence the Beastie Boys were on me and so many others." And Adam was all a part of this. Adam also contributed largely to various music videos of the Beastie Boys such as: "So Watcha Want," "Intergalactic," "Body Moving," and "Ch-Check It Out."
Adam Yauch is survived by his wife, Dechen; his daughter, Tenzin Losel; and his parents, Frances and Noel according to the band's publicist.