A Long Way From Home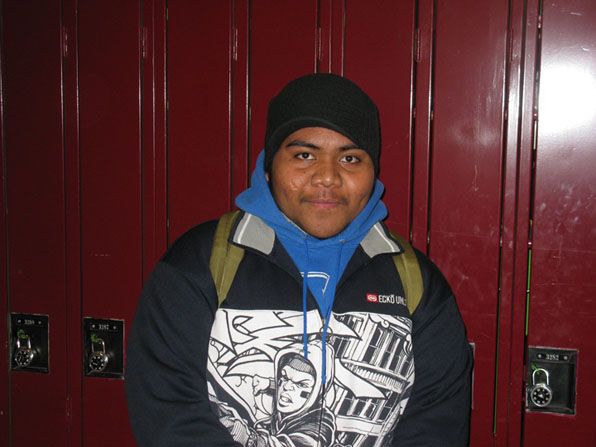 Photo Credit: Mr. Dring
Serafina Bell, Staff Writer
January 30, 2012
Filed under Archive
Weno Chuuk Island, Micronesia is a small island in the North Pacific Ocean; an island so tiny that you can barely see it on the map. This small piece of land may seem insignificant to you, but it is home to approximately 106,800 people. K-Paul Paul, an immigrant from Weno Chuuk Island, Micronesia, is just one of the many people in that number. K-Paul is now a sophomore in Albany High's Innovation academy.
K-Paul moved to the states with his family when he was only eight years old. In the year 2000, a tsunami destroyed their home in Micronesia and left them with no other choice but to leave the island. America was immediately their first choice because of its promising educational system and employment opportunities.
K-Paul said that it was very hard adjusting after he moved. He explains that it was especially challenging to learn English. K-Paul says the school system in Micronesia would teach the students a small amount of simplified English, but not enough to become fluent in the language. K-Paul speaks a language called Chuukese. This is the language spoken in Weno Chuuk Island, Micronesia.
When K-Paul was asked if there were any traditions different or similar to ours, he explained that the New Year was celebrated much like our Halloween and thanksgiving festivities. He explained that during the celebration people would fill the streets, drumming on cans and collecting candy from house to house. They would then meet up at the local church and eat a big meal to celebrate.
School in Micronesia is also very different than the United States. The school days are much shorter. Classes begin at 8am are last until noon and during recess the children could leave school grounds.
K-Paul mentions that he still has aunts, uncles, and cousins in Micronesia, but he has not visited since he moved to the United States. He does, however, still hold many memories from his past. What he misses most is the weather; besides the mud. He explains it is always the perfect temperature for the beach. Without any hesitation K-Paul said that he would move back if he was given the choice.
Even though K-Paul left Micronesia twelve years ago, he left behind bits and pieces of his childhood there. K-Paul will never forget where he came from.
*If you're interested in other countries and cultures, then come and join The International Club! You don't even have to be from another country to join! Come and learn about all of the different countries and cultures Albany High has to offer … join in the fun, the food and the games. Club meets on Wednesdays in room 210 at 2:50 – everyone is welcome to join. Hope to see you there!*